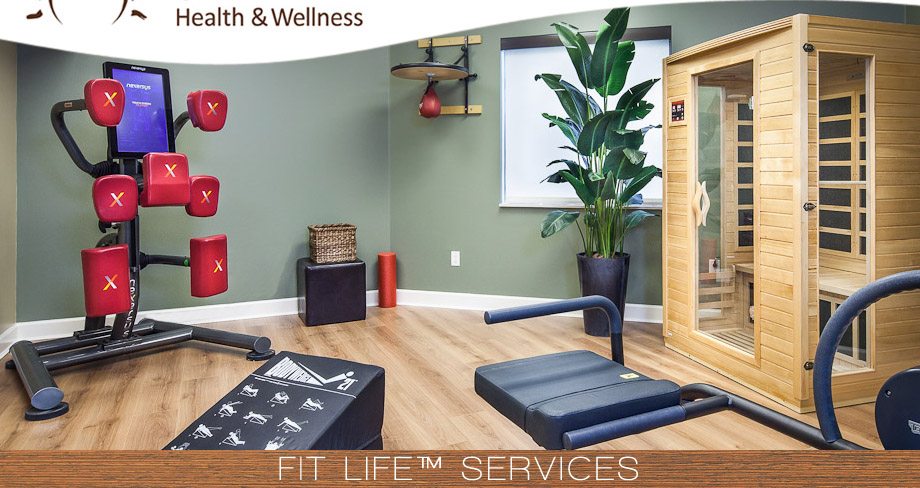 A NEW STANDARD IN HEALTH AND WELLNESS
Our staff of fitness and nutrition specialists has extensive backgrounds in each respective discipline and includes: dietitians, exercise specialists, massage therapists and specialized class instructors.
Your Fit Life Team will be with you each step of the way to provide you with ongoing coaching and support along your wellness journey.
YOUR FIT LIFE™ TEAM
SERVICES
PERSONAL FITNESS TRAINING
For individuals interested in optimizing their overall health and fitness levels, personal training sessions are available on a one-on-one, couple, or small
group-training basis. Each session is highly individualized using a variety of tools and systems to maintain or improve overall fitness or sports performance.
GOLF CONDITIONING
Our golf-conditioning program is designed for recreational to competitive level golfers who wish to get in peak condition for golf. It is a collaborative effort between our physical therapists and our exercise specialists.
SPORTS PERFORMANCE TRAINING
Sports performance training is designed for recreational and competitive athletes interested in training to improve speed, power, agility, and flexibility, specific to their sport.
PILATES
Pilates can be used as an important adjunct to physical therapy and personal training. It is a core stabilization program that is particularly valuable
for those with chronic pain and back dysfunction. Solaris offers both small group pilates mat classes and one-on-one nutrition coaching and support.
TAI CHI
Tai chi has been shown to lower blood pressure and stress levels, reduce pain, promote balance and body awareness, and improve flexibility and cardiovascular fitness. Solaris offers both small group tai chi classes and one-on-one tai chi training sessions.
YOGA
Yoga is used today by many practitioners for its self-healing benefits including improved immune function, reduced muscle tension and stress, decreased blood pressure and pain, increased strength, and improved flexibility. Solaris offers both small group yoga classes and one-on-one yoga training sessions.
MASSAGE THERAPY
Our licensed massage therapists are experienced in treating a variety of health-related conditions to help reduce pain and improve overall health. Sessions consist of one or more bodywork techniques, including:
• Cranial sacral
• Deep tissue/neuromuscular
• Hot stone therapy
• Myofascial release
• Reflexology
• Sports
• Swedish
• Therapeutic flexibility exercises